A cheap hotel near Sugar Bowl Resort with Beautiful Rooms, the Foothills Motel Sets Up Your Ski Vacation.
The Foothills Motel in Auburn, CA, is a cheap hotel near Sugar Bowl Ski Resort where the rooms are anything but cheap and boring. The rooms are beautiful and comfortable and have a fun retro style. At anywhere from one-third to one-tenth of the price of a room in Truckee, the Foothills Motel is the cheapest hotel near Sugar Bowl Resort on the West side of the mountains. For less than the cost of staying in Truckee one night, you can stay at the Foothills Motel the night before skiing or snowboarding AND the night after skiing or snowboarding.
Next to Highway 80, a drive from the Foothills Motel to Sugar Bowl Ski Resort is 55 minutes making the Foothills Motel an excellent hotel for your skiing or snowboarding trip to Sugar Bowl. You can drive up after work, get a restful sleep, and launch to winter fun in the morning. We even have Tesla Superchargers at the hotel if you need a charge.
A Place For You to Relax in Comfort
The Foothills Motel is a historic 1959 motel with fully remodeled rooms, upgraded amenities, the most comfortable beds, new bathrooms, the fastest Wi-Fi, and 55-inch LED screens (with HDMI game port!) We have king bedrooms and 2x double beds rooms you can share. Check out the remodeled rooms!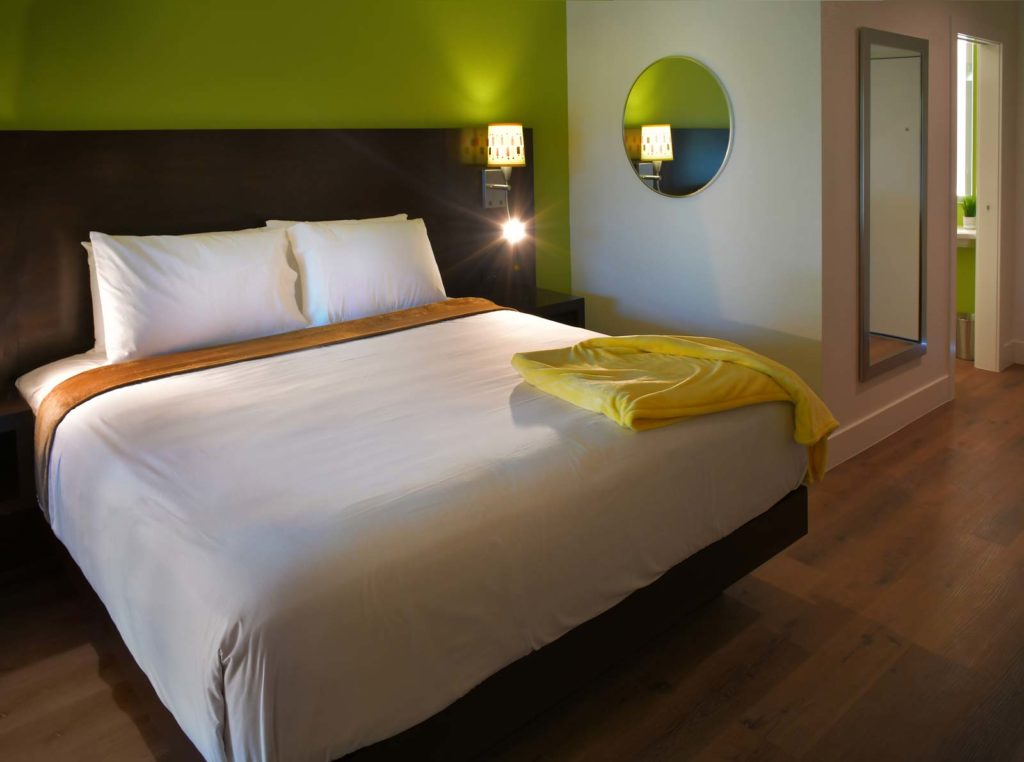 Truckee Hotels Near Sugar Bowl
Truckee hotels are closer to Sugar Bowl, about a 20-minute drive, but for 35 more minutes of driving, you save a bundle, stay in a nicer room, and are closer to home. And if you still have the energy, bowling at the Foothills is fun for everyone.
Reno Hotels Near Sugar Bowl
Reno hotels are about the same in drive time to Sugar Bowl at nearly the exact cost as the Foothills Motel, but you're hours further from home, and you will need to drive over the pass to get home (which might require chains or sometimes be closed).
Out of the Snow and Into the Fun
The Foothills Motel is out of the snow, so you don't have the stress about getting stuck by road closures or chain controls on Highway 80. We have award-winning breweries nearby, great restaurants, and on-site bowling! Winter weather in Auburn is typically mild, so you can explore the town and the miles of local trails without worrying about snow and ice.
Seeking Fresh Powder
For experienced skiers and snowboarders chasing a storm to get fresh powder or the first chair at Sugar Bowl, staying at the Foothills Motel puts you in a prime position to get up the mountain early and search the resort for fresh tracks.
Highway 80 Road and Snow Conditions
CalTrans Current Road Updates
A good resource for chain requirements announcements, input highways "80" for highway 80 and "40" highway 40 to Sugar Bowl.
CalTrans QuickMap
This is a good resource for checking the speed of traffic, accidents, chain controls, etc on a map.
Highway 80 Live Webcam at Kingvale – Eastbound, heading from Auburn to Sugar Bowl
The Route to Sugar Bowl Ski Resort
---
Breweries Near the Foothills Motel
Auburn Alehouse – 6 min.
Crooked Lane Brewing Company – 7 min.
Knee Deep Brewing Company – 8 min.
Moonraker Brewing Co. – 8 min.
Explore 15 Additional Area Breweries
---
More Fun Things to do in Auburn
Have a Great Snowboarding Vacation at Sugar Bowl Ski Resort