Wine tasting at the beautiful and unique wineries in the town of Auburn!
Located in the picturesque Sierra Nevada foothills, wine tasting in Auburn provides a perfect setting to indulge in the delightful flavors of locally crafted wines. Whether you're a seasoned wine connoisseur or simply enjoy wine, this region has something for everyone.
We are fortunate to have three wineries, open for wine tasting, in Auburn, all less than 15 minutes from The Foothills Motel
Discover Local Auburn Wineries
Mt. Vernon Winery is a family-owned establishment that combines a rich history with modern winemaking techniques. Set against the picturesque backdrop of the Sierra Nevada Foothills, this winery offers an inviting atmosphere and a diverse selection of wines to please every palate. Wine tasting is open Thursday through Sunday from 11 am to 5 pm.
Bonitata Boutique Winery is a wonderful discovery renowned for its carefully crafted, small scale production of exquisite wines. With utmost dedication, this boutique winery specializes in creating limited editions of exceptional wines that beautifully capture the distinct essence of the region. Wine tasting is Wednesday-Friday 12:30 pm – 5:30 pm or by Appointment.
Knee Deep and Moonraker are a short walk from each other.
Immerse yourself in Spanish inspired wines at Vina Castellano. This charming winery is family owned and offers an impressive range of reds and whites with a particular emphasis on Tempranillo and Grenache varietals.
Their friendly and welcoming nature, combined with the beautiful vineyard setting, makes for an absolutely delightful experience.
Wine tasting is Thursday through Sunday from Noon to 5 pm.
Wine Tasting Experiences
Each winery in Auburn is near Foothills Motel and offers a range of unique wine tasting experiences tailored to suit your preferences;
Classic Tasting
Indulge in a flight of classic tastings that showcase the winery's signature wines. You'll have the opportunity to learn about the art of winemaking and discover what sets each wine apart.
Vineyard Tours
Take a guided tour through the vineyards and gain insights into the fascinating process of growing grapes. Walk among the vines, learn about different grape varieties and soak in stunning panoramic views.
Planning Your Wine Tasting Visit
Location
Auburn, California is conveniently situated just off Interstate 80, making it easily accessible for visitors.
Accommodation
Enjoy your stay at the charming Foothills Motel, providing you with a comfortable and convenient home base for your wine tasting adventure.
Transportation
If you plan on visiting multiple wineries, it's advisable to consider booking a local wine tour or arranging for a designated driver to ensure both safety and enjoyment throughout your experience.
Reservations
Although some wineries may accept walk ins, it is highly recommended to make reservations in advance—especially during weekends or busy seasons—to secure your spot.
Embrace the wine culture of Auburn
When you venture out to discover the wineries near Foothills Motel in Auburn, California, you'll not only have the opportunity to savor exceptional wines but also dive into the region's rich history and culture. From picturesque vineyards to unique tasting experiences, your journey promises to be a truly memorable one. Here's to an enjoyable wine tasting adventure in the foothills of Sierra Nevada!
Exploring beyond wine
While wine tasting is undeniably a highlight of Auburn, there's so much more waiting for you to explore in this area. Take a leisurely walk through the historic downtown, visit award-winning breweries in auburn, go American River Rafting, embark on hiking or mountain biking adventures along nearby trails or even pay a visit to the iconic Auburn State Recreation Area for thrilling outdoor experiences.
---
After All the Tasting, The Foothills Motel is a Place For You to Relax in Comfort
The Foothills Motel is a historic 1959 motel with fully remodeled rooms, upgraded amenities, the most comfortable beds, new bathrooms, the fastest Wi-Fi, and 55-inch LED screens (with HDMI game port!) We have king bedrooms and 2x double beds rooms you can share. Check out the renovated rooms!
And if you want a tasty beer within walking distance of your room, our Bowling Alley bar will take care of you.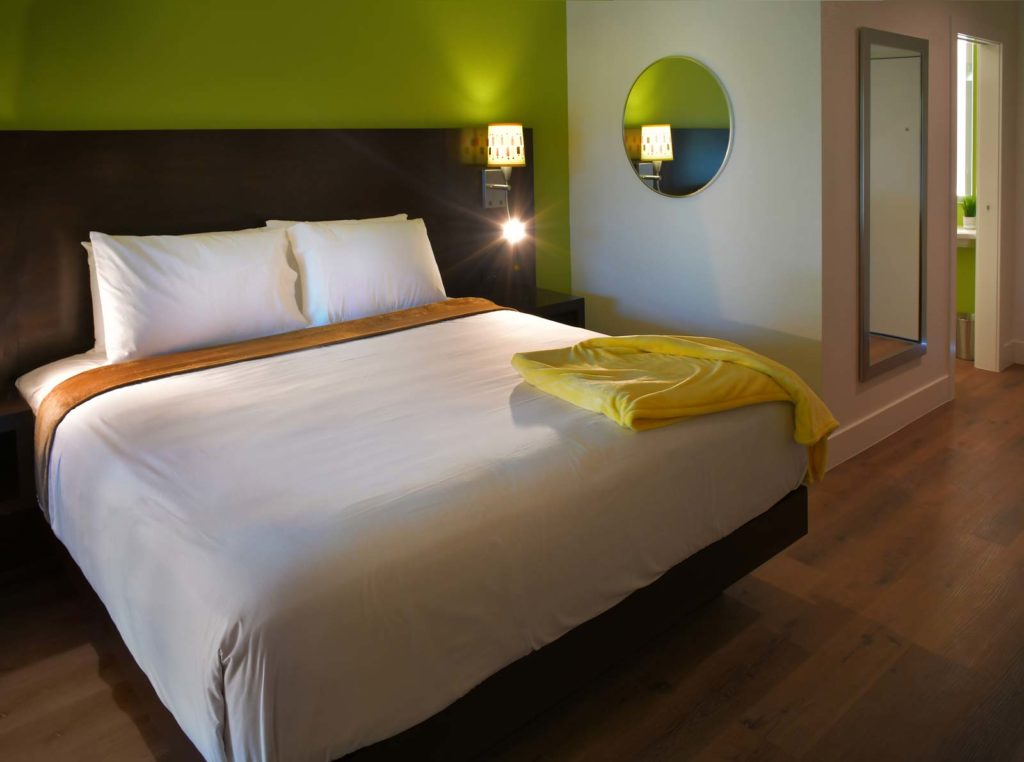 ---
Have fun tasting your way around Auburn with The Foothills Motel!